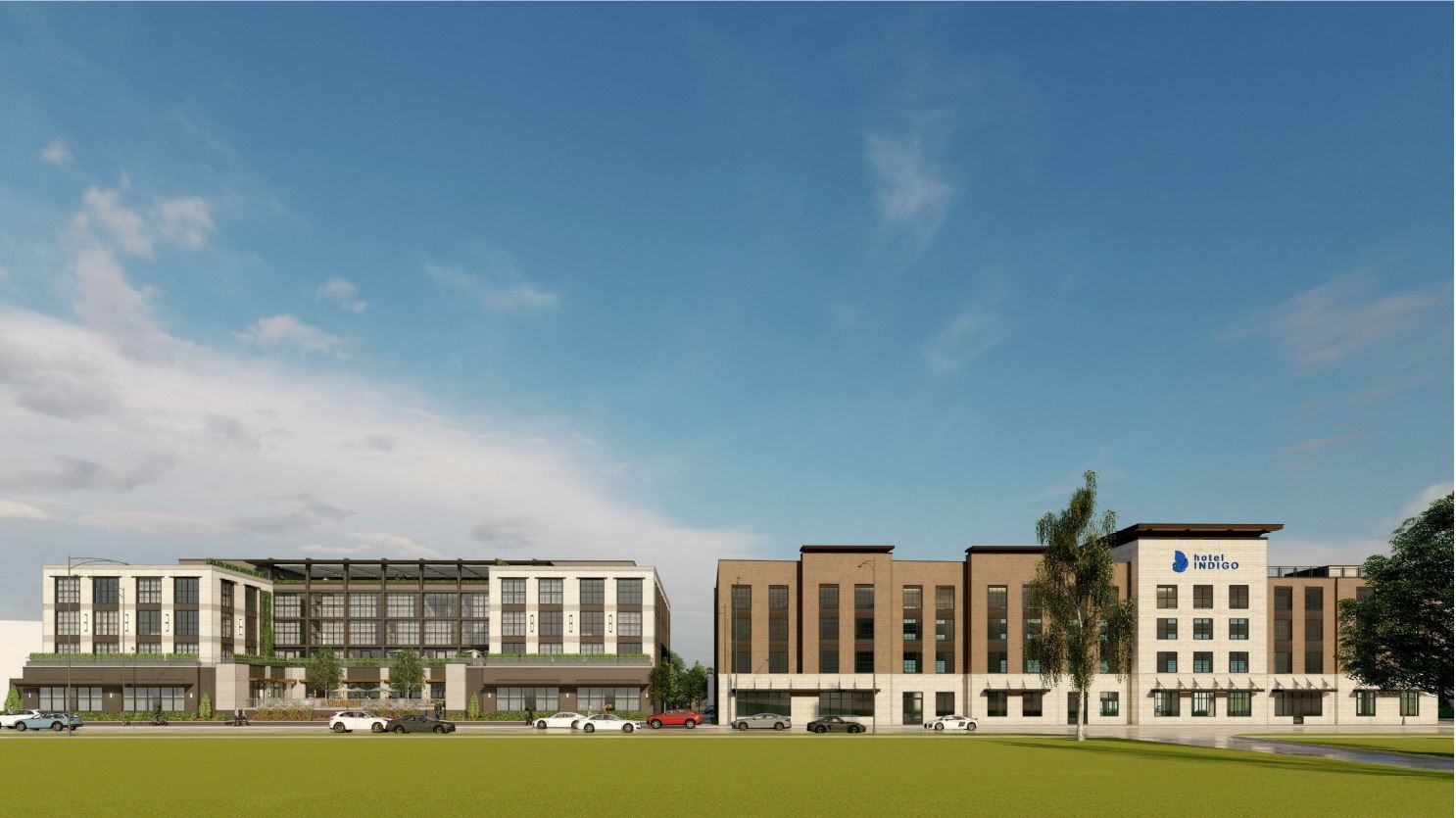 Warehouse District Building Heights, Garfield Avenue Properties Listed for City Board Meeting
A pair of zoning changes – one relating to building heights and one that would affect four properties on Garfield Avenue – are on the docket for tonight's regular meeting of the Traverse City Board of Commissioners. How the commission votes on these two issues will impact the future of a hotel development project in the Warehouse District (pictured), as well as Garfield facilities owned by State Savings Bank and Aspire North respectively Realtors. Other key items on the agenda include a discussion of funding approval of up to $60,000 for a volleyball court expansion project in West End Beach, the annual report of the city's winter snow maintenance; and "examining the establishment of an ad hoc interview committee to make recommendations regarding appointments to the Zoning Appeal Board.
Perhaps the biggest question ahead of tonight's meeting is whether commissioners will vote in favor of a consequential text amendment to the City of Traverse Code of Ordinances that would change building height requirements in District C -4a. C-4a zoning designates commercial "regional center districts" along the periphery of downtown. Specifically, the problem is the Warehouse District, where developers plan to build a new four-story Marriott hotel.
Developer Jeff Schmitz of JS Capitol Group originally applied for a height variance with the Board of Zoning Appeals that would have allowed him to build to a height of 48 feet, eight inches on lots 211 and 221 West Grandview Parkway. Schmitz argued that historical contamination of the properties' soils made excavation and underground construction a major risk. Schmitz also said being kept to a maximum of 45 feet without being able to build downwards could prevent the hotel from sticking to its four-story design, which in turn could impact the feasibility of the project.
But the Board of Zoning Appeals denied JS Capitol's request, with some members noting similar requests keep coming in for properties in the Warehouse District – including Hotel Indigo, which was approved for a similar dimensional gap in 2011 Deviations are intended to meet conditions. unique to a specific property that make zoning requirements onerous and difficult to meet. Some members of the zoning board felt that the requests for multiple waivers in the warehouse district indicated that the issues in question were not unique to specific properties, but were characteristic of the district as a whole. As such, the council decided that it would be more appropriate to update the zoning code entirely rather than continue to grant waivers. Schmitz then submitted a proposed text change to the Planning Commission, which approved the proposal.
The text amendment on tonight's agenda "would permit approval of an additional five feet of height by the Planning Commission (for a total of 50 feet of height) in District C-4a if it subsurface soil conditions, groundwater elevation, or other environmental conditions exist that impact the depth of subterranean structural or foundation systems, underground parking lots, or basements." If approved , the amendment will take effect on August 15 and effectively give the Traverse City Planning Commission the ability to approve taller buildings in District C-4a than previously allowed without a waiver.The amendment would likely give JS Capitol Group an open path to approval for their hotel design and could also affect future developments in the warehouse district.
Tonight's meeting will also see the Commission consider two separate applications for "conditional rezoning" of four different properties on Garfield Avenue. One such request is from Aspire North Realtors (formerly Traverse Area Association of Realtors, or TAAR), which is seeking to split a property it owns at 833 Fern Street and combine part of the land with another property it owns. she owns at 852 S Garfield. Aspire North also wants a portion of the Fern Street property to be rezoned from its current designation R-2 (two-family dwelling) to C-3 (community center).
Similarly, SSB Real Estate LLC (State Savings Bank) wishes to execute a land division of a parcel it owns at 837 Fern Street, rezone part of that property from R-2 to C-3 and combine part of the land with a parcel he owns at 862 S Garfield. Properties that SSB Real Estate owns on Garfield and Fern are adjacent to properties owned by Aspire North on those streets.
According to a memo from planning director Shawn Winter, the purpose of the requests is to "create larger shared parking" for the joint needs of Aspire North and the State Savings Bank. Aspire North, Winter noted, regularly hosts training and other events for member realtors throughout the 10-county area. Given this reach, Winter writes, Aspire North events "often bring many people to their location and their current parking area is insufficient for their current needs."
As for the State Savings Bank, Winter noted that the company plans to demolish the structure that currently sits on plot 862 S Garfield and construct a new building that would eventually serve as its corporate headquarters. "Given the number of staff they intend to have on site and the customers they will serve, [State Savings Bank] also think their site is inadequate for their parking needs," Winter wrote. Splitting and rezoning some of the properties it owns at 837 Fern would allow the bank to add additional parking west of the new headquarters.
While the easternmost parts of the properties on Fern Street would be rezoned to C-3, the westernmost parts abutting Fern Street would retain their residential zoning. As the zoning application is "conditional", it also comes with voluntary conditions offered by landowners to minimize the impact of rezoning on residential landlords along Fern Street, such as accepting a buffer of more trees and landscaping than officially required by Zoning C-3.