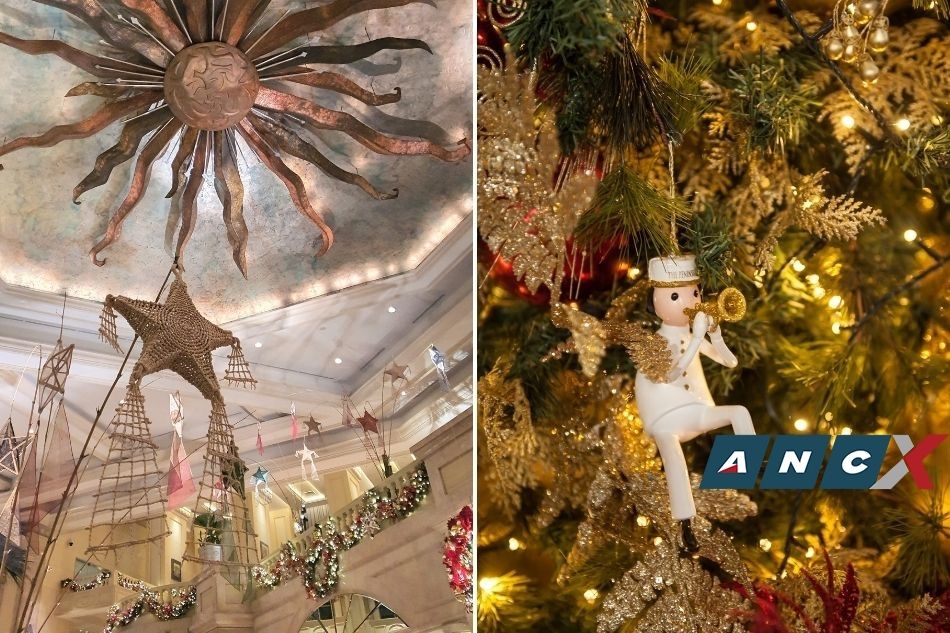 The peninsula's designer lyrics have a message of hope
Culture
The Grande Dame of Manila called on designer Mark Wilson to present her unique lanterns for a very special Christmas
ANCX staff | 23 October 2021
Christmas is notoriously a special affair in the lobby of the Manila Peninsula. There is nothing quite like walking on its carpeted floors and being greeted by its classic interiors as musicians on the mezzanine rock guests to holiday tunes. Regulars know all about the annual tree-lighting ceremony – the Makati Hotel, after all, still features one of the tallest and most decorated trees in the city, everyone's favorite photo backdrop.
This year, the tree lighting came on the eve of the easing of quarantine restrictions in Metro Manila, signaling a Merry Christmas indeed. The tree is 45 feet tall and took a week to install, the result of a year-long planning process. Built with reusable materials, it is decorated with six holiday characters: The Nutcracker, Gingerbread Man, Robin, a Christmas Reindeer, Santa Claus and the Peninsula Page, all animated by over 3,000 LED lights .
There is arguably a sentimental touch to the hotel's festive decor this year, not only because the world continues to struggle with a pandemic, but also because the peninsula has just celebrated its 45th anniversary; his first Christmas tree was lit in December 1976.
It is therefore quite appropriate that there is a strong local element in the global configuration, in the form of 75 bamboos and abaca lyrics mounted on bamboo poles. They are created by lighting, accessories and interior designer Mark Wilson of Caro Wilson, and handcrafted by artisans in Baguio and Sorsogon. The sinamay and gumon lyrics are scattered throughout the Pen and Upper Lobby, adding to the illusion that hotel guests are dining under the stars.
"Sadness was the impetus for my new lyric collection," says Wilson who is now also partly based in Baguio. "Christmas 2020 has been the saddest Christmas ever for me. Everything I loved about Christmas has been taken from me: the live Christmas carols, the midnight service, the family lunch at my aunt's house. and my uncle, hugs and kisses from loved ones, and seeing my son, who chose not to travel. So when January 2021 arrived, I found myself foolishly optimistic that 2021 would be better. That was the vaccine. . The vaccine would improve everything! "
This insane optimism reminded Wilson of the humble Filipino Christmas lantern, or lyric, with the lyric being a symbol of hope.
The designer was so inspired that he started working on a collection in January. "I thought a muted palate would be most appropriate – nothing too cheerful – what if in fact the pandemic doesn't fade away?" Wilson knew he was staying away from the yellows, but that red was a good idea. "But serious reds, with a lot of black," he told ANCX. "A blue word – to recognize our pandemic blues. And a black, dark and elegant parol. My fashion friends would love this.
Wilson's words, like the spaces he conjures up and the accessories he creates, have their own unique character. While the floors are usually lit from within, hence their translucent coverings, Wilson's lanterns are "transparent and bitter – and delicate, like my state of mind in this miserable pandemic!"
Wilson was supposed to have a show last July – he was going to call it "I Need A Little Christmas Now", like that song from "Auntie Mame". He would then show his parols so that those interested could order and he could prepare the starry items for delivery by October, when the Pinoys usually start installing their Christmas toppings.
But life had other plans.
"Contrary to my initial misplaced optimism from January, we went through a long tag-araw and tag-ulan of a frightening Delta variant that made 2021 even worse than 2020," recalls the designer. "The July start date has been canceled several times, throwing me back into a gloomy mood."
But it looks like Wilson is smiling again and is ready to hope for better days. "In the last quarter of the year, as daily infections are declining, it looks like we've turned a corner, right ?!" he asks in an email message. "Maybe Christmas 2021 will be really better than the last." It should be. It's already written in Wilson's stars.