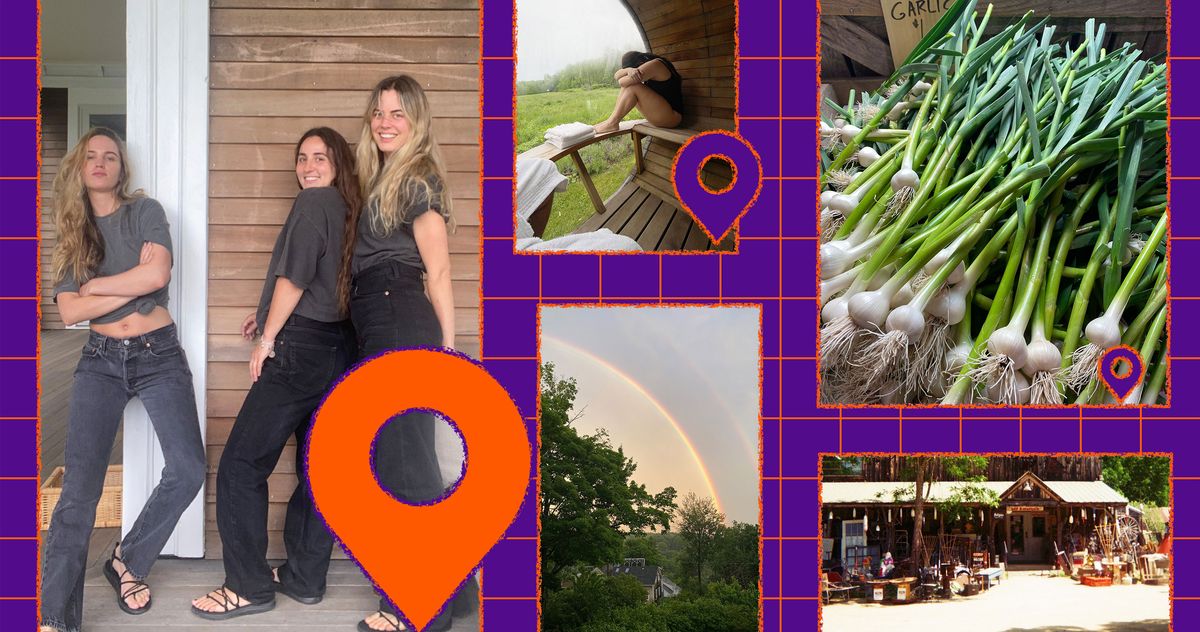 Mid-Coast Maine Itinerary: A Week of Things to Do
I'm a freak in Maine and I wake up with the sun. After sitting in the car for a million hours the night before, I like to start my morning with something active. At 8 o'clock in the morning, I will run towards Green Tree coffee and tea (2456 Atlantic Road. / Route 1). It is a 15 minute run or a two minute drive from the Lincolnville Motel. They have amazing coffees and teas. They are fanatical about what and how they brew. I get a cold brew or a double espresso depending on the temperature that morning. I always stock up on loose leaf tea while I'm at it too. Right now I have a few chamomile ($12 for four ounces) and Maine Blueberry– flavored black tea ($12 for four ounces) from there.
I drive ten minutes to Lake Megunticook to swim and shock my system. Maine's philosophy is to always have a bathing suit in the car because Maine has so many beautiful lakes, hikes, and waterfalls. I also bring a towel in the car. The Lincolnville Motel is on Route 1. Head south on Route 1 and turn right on Route 52. This road runs along Megunticook Lake. Park anywhere on the side of the road, park illegally, step over the highway wall (I'm not even five foot three and can easily jump on it) and jump into the lake. The water is not cold, but it is not hot. You should only swim for a few minutes as you are illegally parked on the side of the highway.
I'm not a big breakfast lover, but there's a place with great breakfast sandwiches (from $6.50) called Points market (2457 Atlantic Road.) in front of Green Tree. Get them after swimming so they are fresh. They make a new selection of things every day, so I'll send the options to my friends and see what they want. And then eat the sandwiches at the hotel or at Dot's at the tables near the parking lot. The vibe is a super cool and friendly neighborhood community.
While at Dot's, ask where to swim. There is a new water hole or swimming spot every summer. Just ask at one of the local places like Dot's or Green Tree. People will gladly tip because Maine people are friendly. Or, if you can, find a friend with a beach house on Lake Megunticook. There are public access beaches in Maine, but the best beachfront is truly private. I love Lake Megunticook because it's the one I've been going to since I was a kid. It's beautiful: very green and mountainous. The water is cool and you feel very secluded. But there are no bad trails or pools in Maine. Buy a snack from Dot's for the afternoon. My favorite Maine snack is Little Lad's Popcorn Original Herbal Corn ($1.99). It's nutritional yeast, dill, and all the best stuff.
Stop at any Renys on the way to swim. Renys is a great store in Maine that also has some really great outdoor and workwear, like good versions of Carhartt and Champion. Mosquitoes, ticks, and brown-tailed moths are really bad in Maine in the summer. I buy a mixture of industrial strength DEET and insect oil from Renys. I also stock up on Comfort Colors t-shirts (three for $10), hailing from Maine. Their tagline is "your new favorite tee," and that's exactly it. They are on Amazon but they are a third of the price at Renys. I finally got a Renys sweatshirt last summer, and I get pulled over by someone every time I wear it.
Then, at the swimming spot of your choice, alternate naps, reading and swimming. I just do those three things and relax.
When we are hungry in the afternoon, we go by car Graffam Brothers Seafood Market (211 Union St.) in Rockport. The seafood market is open year round, but the shack across the street is only open in the summer and the lobster is so fresh. They have my favorite lobster rolls. They are perfectly seasoned and on a nice bun. I definitely get a salt and vinegar kettle chip.
We went a few minutes further to Rayr wine store (67 Pascal Ave.). I'll take a bottle of wine for the drive-in that night. At this point we head back to the hotel to shower, change and get the car ready for the drive-in.
Shotwell Drive-In (40 West Street.) is part of the Camden International Film Festival, which my friend Ben Fowley started and runs. They started the drive-in during COVID, and it became the best part of summer in Maine. They play a full mix of movies. They played The truffle hunters last year for my 30th birthday. They organize parties for children; they play a lot of documentaries. I planned weekends around what happens at the drive-in. They usually air programming for the summer in June. If you ever get the chance to visit Maine in September, I recommend going to the film festival. I saw five of the seven Oscar-nominated documentaries at the film festival last year.
First, prepare the car. My friends have a van, which is the best solution. But with any car, get plenty of pillows and blankets and put them in the trunk. We did everything and put a mattress in the back of the front car. As for what you wear, you should fully cover your body. You will need long sleeves, pants and socks so that your skin is not exposed to insects. It's pretty chilly at night there, so you'll be fine. Once at the drive-in, you can order a pizza to accompany your wine and watch the film.