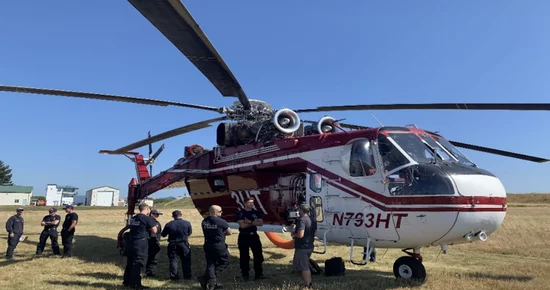 Humboldt is now stocking a powerful New Cal Fire helicopter | Lost Coast Outpost
Cal Fire Humboldt-Del Norte Unit Release
Starting today, Monday, July 25, 2022, a CH-54A Sky Crane helicopter will be based at CAL FIRE Rohnerville Air Attack Base (RAAB). The helicopter is one of ten Type 1 helicopters (the largest water-drop capacity, Type 4 being the smallest) added to CAL FIRE's air assets statewide through exclusive use agreements. These helicopters will be used by CAL FIRE for initial attack and extended fire attack until mid-November, with an option to stay longer if fire activity requires it.

This CH-54A, call sign 3HT or "Three Hotel Tango", has a fixed 2,650 gallon tank that can carry water or fire retardant. The tank also has the ability to make split load drops, allowing the flight crew to adjust the drops to better suit fire and fuel conditions on the ground.

With the addition of 3HT, there are now two Type 1 helicopters at RAAB, with the second Type 1 under contract with Six Rivers National Forest. The regularly stationed RAAB aircraft, Air Attack 120 (the fire aviation operations command and control platform) and Tanker 96 are still available at the RAAB. Also in the Humboldt – Del Norte unit is Kneeland Helitack with a Type 2 helicopter with firefighting crew and drip bucket, stationed at the Kneeland Helitack base in Kneeland.