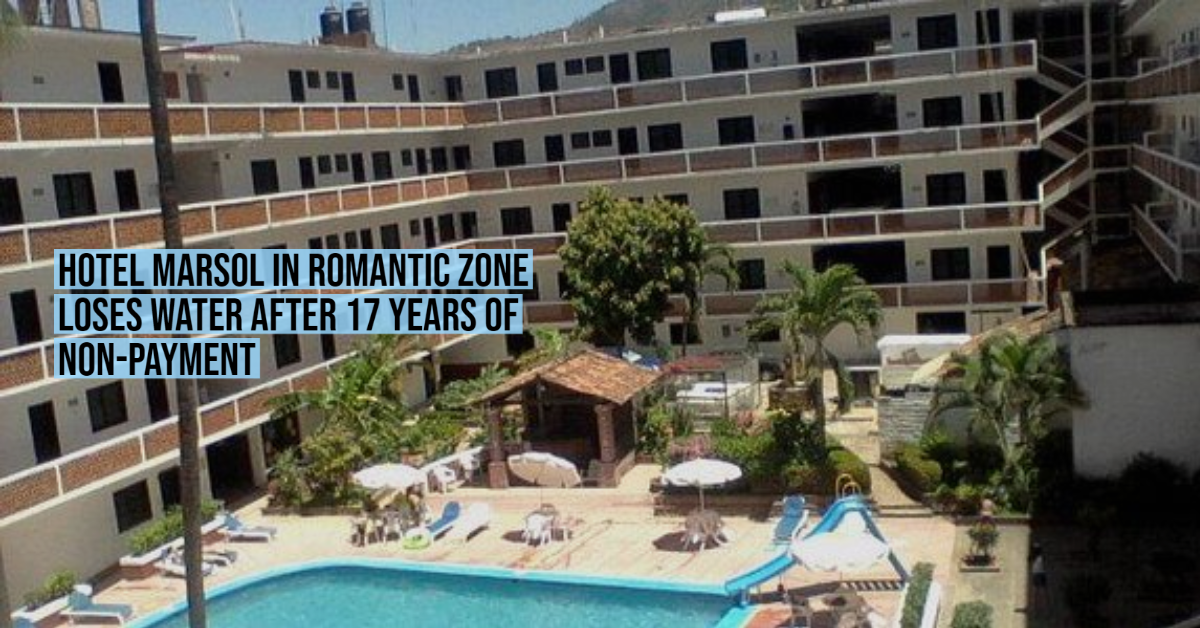 Hotel Marsol in romantic zone loses water after 17 years of non-payment
Puerto Vallarta's Drinking Water, Sanitation and Sanitation System (Seapal) continues its campaign to urge users who have debt with the agency to be up to date on their bills, especially those in the industrial sector. and commercial.
Following the third collection management notification and the water service cancellation notice, the Marsol hotel finally lost water services on Friday due to non-payment.
Marsol had accumulated over 3 million pesos ($ 150,000) in unpaid water bills since 2004, with the last water payment being made 17 years ago on July 2, 2004.
To date, dozens of notifications have been sent to hotels, lodges and condominiums, with debts to the organization totaling 24,493,915 pesos.
However, many of these users who belong to the industrial sector have already approached Seapal to pay overdue bills or make deals with water suppliers.
With these actions, Seapal Vallarta responds to the instruction of the mayor Luis Alberto Michel Rodríguez, to be an organ close to all sectors of society, but also, the current administration of Seapal led by Salvador Llamas Urbina, will not authorize in any case acts of corruption or cronyism prejudicial to the interests of the institution or the population of Vallarta.
---
Receive the PVDN morning newsletter and exclusive content by becoming a PVDN Supporter, find out more here
---
Trending stories right now on PVDN
Sunwing to reactivate connections to Puerto Vallarta with 288 flights from Canada

Sunwing Airlines has announced the reactivation of its connections between 10 Canadian cities and Puerto Vallarta for the winter season. This represents the return of more than 54,000 Canadian tourists to the Mexican beach, reported the Puerto Vallarta Tourism Promotion Trust. The routes will begin to operate during the winter period, anticipating 288 flights from Edmonton, Ottawa,…

Two-year-old Californian dies after falling from ninth floor of Hyatt Ziva in Puerto Vallarta

A two-year-old child was killed after falling from the ninth floor of the Hyatt Ziva, located in Puerto Vallarta, Jalisco, local safety authorities, who acted as first responders in the crash, have reported. The miner and his family are from California, his mother is from Russia, and the father has been identified as James Carter. Guests …

Mexico's Assistant Health Secretary and Face of COVID Fight Says Mask Wearers "Selfish"

MEXICO CITY (AP) – The Mexican government's right-hand man for the coronavirus pandemic has once again made waves by calling those who wear face masks "selfish people." Social media users expressed outrage on Friday over comments by Assistant Health Secretary Hugo López-Gatell, delivered in a speech earlier this week at a book fair. "The idea of ​​…

3.4 early morning earthquake in Puerto Vallarta

A very light earthquake, 3.4 degrees on the Richter scale, was recorded in Puerto Vallarta. The episode took place at 1:40 am, with an epicenter 65 km southwest of the town and at a depth of 7 km. A 3.4 earthquake would not normally cause damage or be perceived by most people in the area of ​​the earthquake.…

Hotel Marsol in romantic zone loses water after 17 years of non-payment

Puerto Vallarta's Drinking Water, Drainage and Sanitation System (Seapal) continues its campaign to urge users who have debt with the agency to be up to date on their bills, especially those in the industrial sector and commercial. Following the third water collection management notice and water cancellation notice …