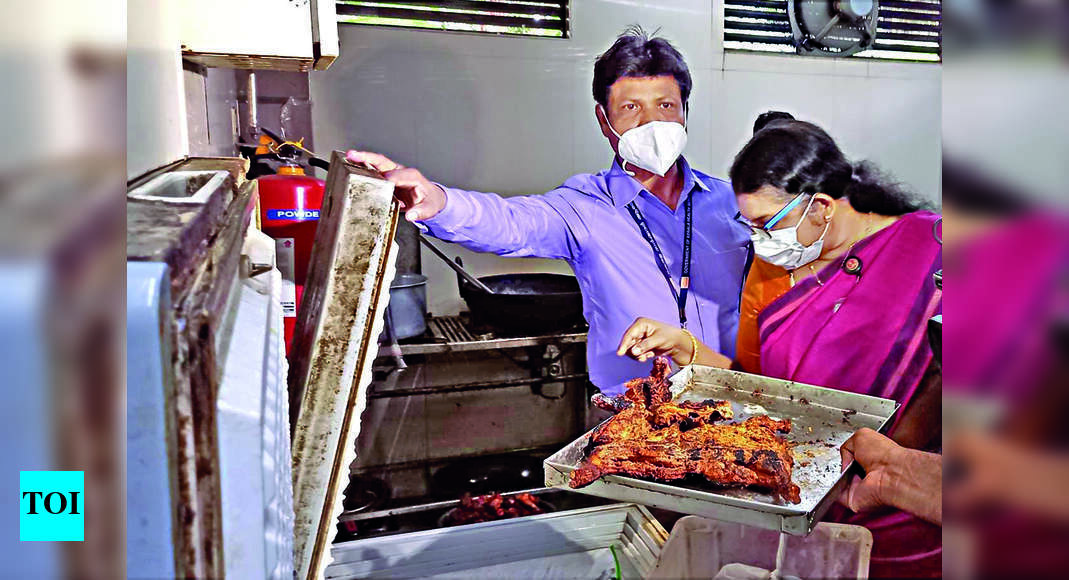 Closure notice served to hotels for storing expired food | Kochi News
Kochi: Following the increasing number of food poisoning cases reported in various parts of the state, health officials from the district and the local body carried out a massive inspection of hotels and restaurants in the district on Friday .
Officials issued notices to many establishments that were found to be in violation of the rules and operating in unsanitary conditions.
A team led by District Medical Officer (DMO) Dr V Jayasree carried out raids on six hotels on MG Road and Kaloor. Of these, two hotels were found operating without employee health cards and were told to close. Four hotels were discovered operating in unsanitary conditions and were told to resume operations after cleaning the hotels and obtaining further approval from the authorities.
It was found that packaged food was kept in the freezers without an expiry date or date of manufacture, as stipulated in the food safety law. Food was also found to be cooked using rusty utensils.
"We found unsanitary conditions in all the hotels we inspected. Expired food was found stored in the freezer, cooked and uncooked food was stored together, and food was kept open. Hotels that have been asked to close for lack of health cards can resume operations after obtaining the health cards and producing them in front of us. Health officials in the respective areas are also carrying out inspections in hotels," she said.
Officers checked required licenses, employee health cards, food quality and hygiene conditions at all hotels and restaurants. Health authorities said the inspection will also continue in the coming days.
Health workers from all local agencies also carried out inspections. On Friday, four out of 10 hotels inspected in Thrikkakara were found keeping expired food in freezers to serve to customers and seized it. Authorities said such hotels would be given notice and a fine of up to Rs 5,000 would be levied against various violations.
"Al Faham chicken meat, dough, fish and other items were found in the freezer. The uncooked fish was about a week old. The inspection took place in the morning to check if expired food was kept in freezers before being served to customers," a health official from Thrikkakara Municipality said.
Meanwhile, Kalamassery municipality health officials on Friday inspected 11 restaurants, which operate only in the evening and serve food items like shawarma. Among them, five were found working in unsanitary conditions and without employee health cards. They received notices to rectify the issues within seven days.