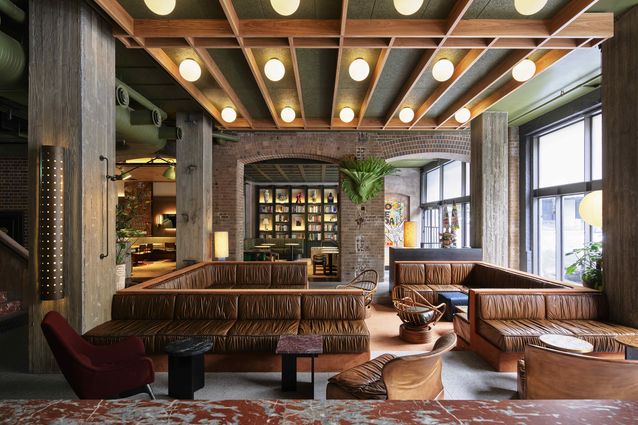 The long awaited Ace Hotel Sydney's has opened, marking the American hotel chain's first venture south of the equator.
Housed in the historic Tyne House brick factory in Surry Hill, Ace Sydney 264 rooms designed by Flack Studio, was completed in 2021. The restaurant and lobby bar followed, as the hotel welcomes its first guests, and rooftop restaurant Kiln, designed by Fiona Lynch Office, will debut later in 2022.
The downstairs restaurant, Loam, is the sibling of its downtown Los Angeles hotel and restaurant. The name comes from the word for the perfect cocktail for fertile soil: part sand, part silt and part clay. The color scheme is equally earthy, with Flack Studio basing its palette on yellow ochre, raw umber, burnt sienna and the moss green of the Australian landscape.
The scheme is textured, warm, organic, with amber lighting, raw wood, and a red marble staircase that stretches from the lobby to the first level. Flack Studio showcased the bold and brash works of contemporary Australian artists, including Tony Albert, Nadia Hernandez, Ramesh Mario Nithiyendran and many more, to create intriguing moments throughout the ground floor space.
"We wanted to preserve the creative, slightly renegade energy of the space from its origins as one of Australia's first brickyards," said David Flack, founder and director of the studio. The design acknowledges the lineage of the site's pottery and ceramic creation both directly and more subversively.
Ace Hotel occupies the site of Australia's first kiln find, where convict potter Jonathan Leak produced works as early as the 1820s. This legacy is detectable in the remaining brick structures erected to house the factory in 1916 and the Playful painted brick mosaic at the lobby entrance.
Inspired by the site's 'rogue' history, the design evokes connotations of the imagined space of the West. Rawhide lampshades emit a textured glow and the crinkled leather cabin seat plays with the romantic associations of a Western living room. An epiphytic deer horn is playfully mounted on the brick wall where one would expect a stuffed deer head – perhaps a nod to Loam's vegetable menu.
Echoes of 1970s Australian suburbia reverberate through the sunken living room and Robin Boyd inspiration Australian ugliness are detectable in the uniquely Australian decorative experience. "We were committed to creating a warm space that brought together Australia's cultural history with Ace's unique, community-based approach to hospitality," Flack said.