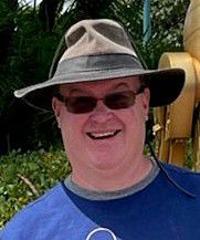 Brian Edward Stevens | Obituary
Beloved husband, veteran, theme park enthusiast, animal lover and online gaming enthusiast Brian Edward Stevens passed away at 1:41 p.m. on September 20, 2021 in Kissimmee, Florida. Brian graduated from the Towanda area high school class in 1987. Brian loved the art of music and was able to play many instruments. Brian was also an athlete for the Towanda area high school swim team.
Brian enlisted and served in the US Air Force after graduation, until he was honorably discharged. He began life as a civilian running a small business in Towanda where he built and sold computers. While running his business, Brian studied and graduated from Lackawanna College in Human Resources / Business.
Brian was married to Mary Ellen Jendrey in 2007. Brian began working as a manager at retail stores such as Best Buy, HH Greg, and Walmart, while living in the Wilkes-Barre area. Brian was rarely at rest, always striving and pushing his limits to grow and do better in life. He completed the Walmart Management Training Program and successfully helped manage several Walmart stores from Pittston PA to Titusville Florida.
Brian's last business was in hotel management at Loews / Universal Hotels in Orlando, Florida.
In his spare time Brian enjoyed traveling with his beloved wife Mary Ellen, where they traveled to several Disney vacation destinations to enjoy their vacations together in places such as Hilton Head, North Carolina, California and Kissimmee, Florida. . Brian and Mary have also ventured with Disney Cruise Lines to Bermuda, the Caribbean, Mexico and Canada.
Brian is survived by many loved ones, his wife Mary Ellen for 14 years. Parents JoAnne and Edward Stevens, in Towanda. Sister and brother-in-law Joan and Richard Cook II, in Towanda. Nephew Richard Cook III and his wife Helen, Colorado. Nephews Jeremy and Alex Cook, in Towanda. Aunt and godmother Jean Gorski and husband Donald Gorski, in Sayre. Anastasia Gajdowski Olson, her cousin from Saegertown.
Brian is also survived by several family members of his wife, mother and father Helen and Eugene Jendrey, in Dupont. Sister-in-law Julie and her partner Tim Slezak, niece and nephew Grace and Timmy John Slezak, in Pittston Township. Brother-in-law George Jendrey in Dupont. Brian also had two furry children (cats) Minnie and Daisy who will be sorely missed.
The family will hold services at a later date at Holy Mother of Sorrows, Polish National Catholic Church located at 212 Wyoming Avenue, Dupont, PA, 18641. Date and time pending, look for another listing.
The Stevens family is cared for by: CONRAD & THOMPSON FUNERAL HOME AND CREMATION SERVICES, 511 Emmett Street, Kissimmee, FL 34741; 407-847-3188.